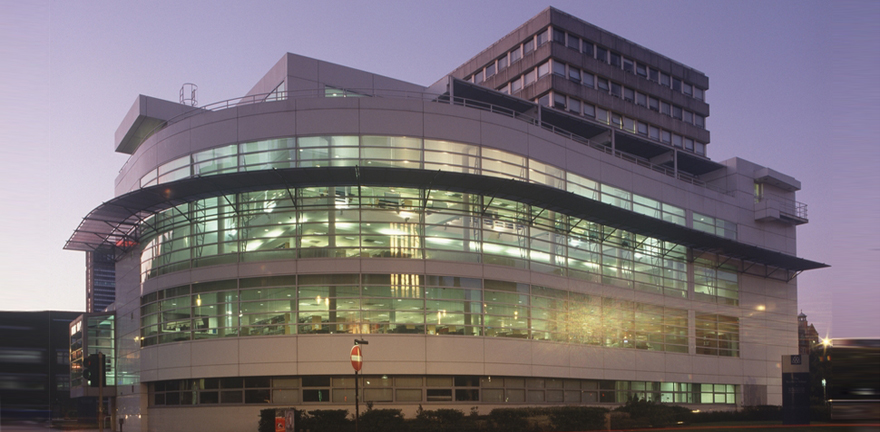 The new library and information technology building for the Manchester Metropolitan University on their Aytoun Street campus provided the institution with its first new academic building in almost two decades. The brief called for the design to be efficient and to announce the institution's recent elevation to university status. The design works as a contemporary addition to MMU's site and completes the urban composition of the UMIST building and the former Sheena Simon College within the conservation area around Whitworth Street. A fundamental design principle of MBLA's design approach is that buildings should form a strong relationship with adjoining streets and buildings. We aim for our architecture to complement and enhance the existing qualities of urban space. At the library this is achieved by the building's form, transparency and through the celebration of the entry sequence.
The southern facade takes its form from two opposing radii, one defining the corner of the street, the other ending a primary vista down Cobourg Street. The two coinciding geometries generate the large open-plan reading and study areas within. The served accommodation contrasts formally with adjacent rectilinear service spaces to the north face of the building.
The design of internal study areas respond to the change in geometry, from open study at first floor, through defined reader units on second floor to private carrels on the mezzanine level. The fourth floor houses the computer suite containing 190 terminals. The variety, mode and level of lighting reinforce the variety of uses throughout the building.